Explore living into the Five Elements with Julie Dohrman and Peter Goodman
October 9th – 16th, 2022
Join Julie and Peter on the enchantingly beautiful Grecian island of Paros for a 7 day all-levels yoga, meditation, and fully immersive experience!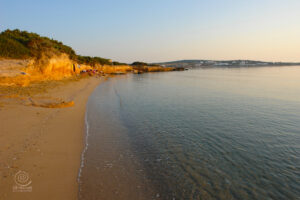 October in Greece is magical.
Come swim in the crystal blue Sea with us, rebalance your body-mind, and strengthen your yoga practice as we dive into the Mahabhutas.
Yoga philosophy offers an understanding that our human existence is a microcosm of the natural world we live in, and that the basic set of five elements in nature (the Mahabhutas in Sanskrit) are mirrored in our bodies as well. Everything in nature is made up of these Five Elements: earth, water, fire, air, and ether. Learning to recognize how these elements embody in us can lead to transformative experiences, and a steadiness to meet any situation in life.
Julie and Peter will offer daily yoga practices that weave these teachings, create harmony and balance in the body, and inspire fresh understanding of the yogic path of life.
Our home for the week will be Okreblue Seaside Eco Retreat center, a hip and spiritually charged destination located on the relatively untouched seaside of Santa Maria, the peninsula side of Paros Island, Greece. With a laid-back vibe, well appointed rooms, delicious food, and unique lounge spots around the property, plus being cradled by the crystal clear Aegaen Sea, the rawness of nature here are the perfect conditions for our retreat!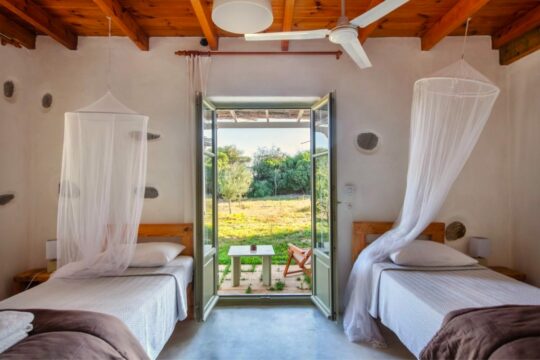 YOUR STAY
Lodging is simple and rustic, open and naturally lit, seaside facing, and inspired by the elements and the muses of Greek Mythology. We'll be a stone's throw away from Felizi beach and the velvety blue waters of the Aegean Sea.  Plenty of breathtaking views from everywhere! All rooms are en-suite.
THE FOOD
Daily light breakfast, brunch, and dinner is included with the retreat. You will be nourished by the food grown in Okreblue's own organic gardens or from local farmers, with daily farm-to-table vegetarian meals. Vegan, gluten-free, wheat free, dairy free diets and other special diets can be accommodated upon request. Apart from included meals, the cafe is open daily and serves light meals and drinks. Tea as well as drinking filtered water is available all day.
On retreat you'll experience:
2 intelligently crafted, alignment based yoga classes daily with Peter and Julie, focusing on the Five Elements
Practices in Okreblue's light-filled, spacious and fully equipped studio
Organic, locally harvested and chef-prepared wholesome meals
Silent mornings for personal practice, reflection or meditation
Bodywork/massage services are available
Plenty of free time!  Swim in the turquoise sea, visit ancient towns and ruins, or simply relax!
Join us to reboot your practice and synchronize your body-mind with the rhythms of nature.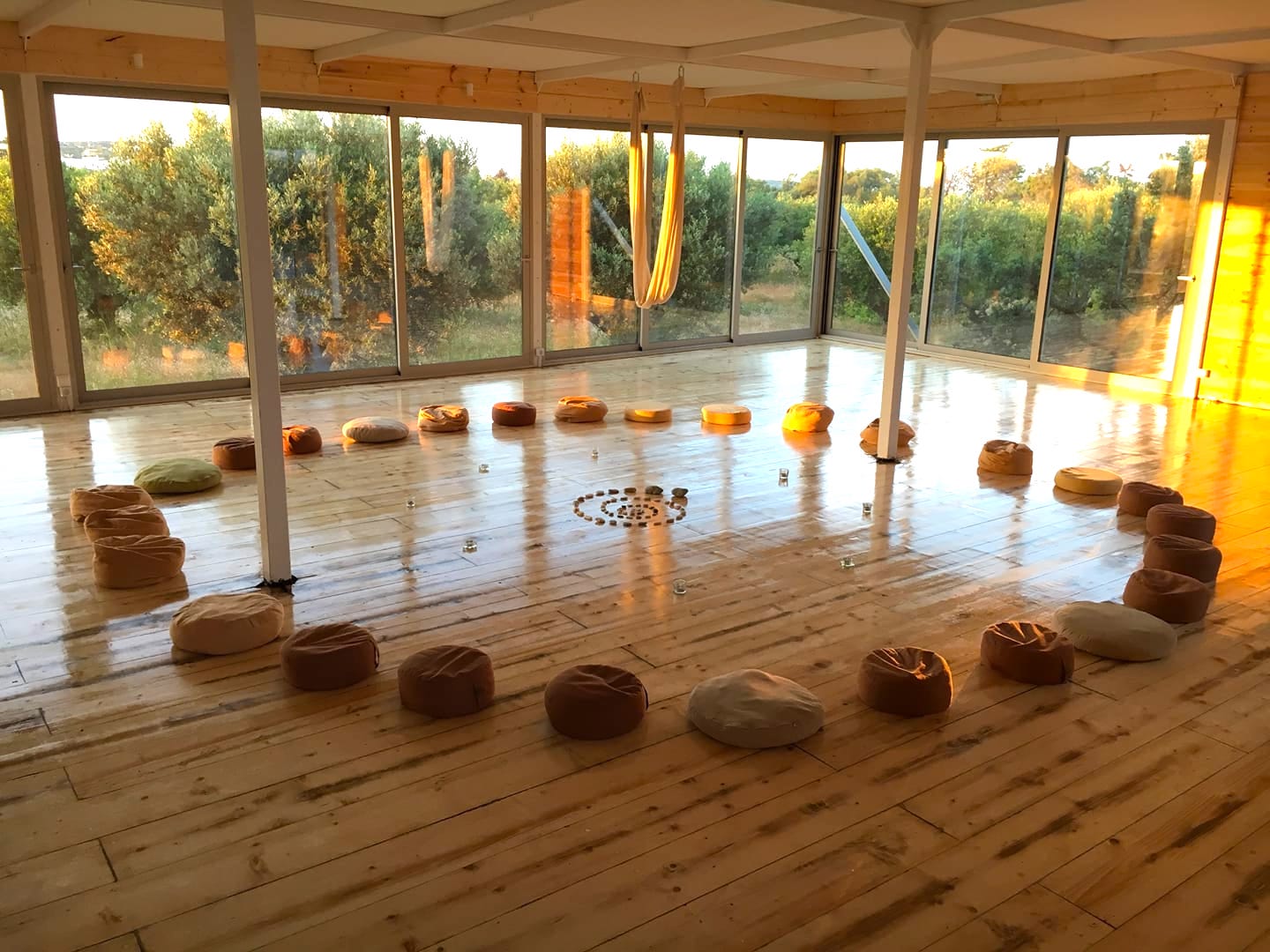 PRICING:
Deposit of 50% holds your space. To qualify for Early Bird rate, balance must be paid in full by JULY 1, 2022. (Deposit is N/R)
EARLY BIRD
Double/ shared: $1750
Single: $2250
STANDARD RATE
With balance paid AFTER JULY 1st
Double: $2000
Single: $2500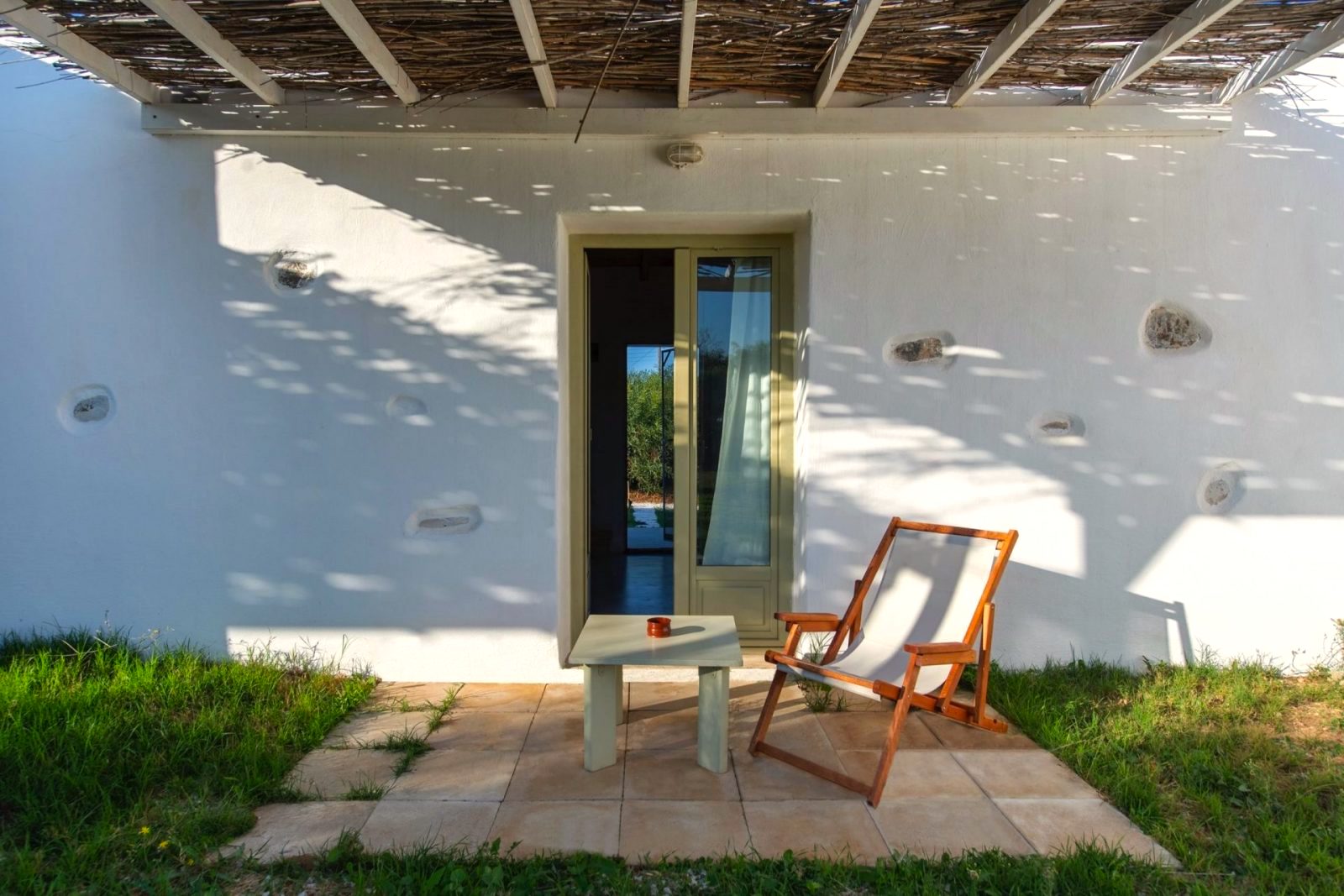 QUEEN SUITE – EARLY BIRD
Double/shared: $2100
Single: $2650
QUEEN SUITE STANDARD RATE
With balance paid AFTER JULY 1st
Double/shared: $2400
Single: $2900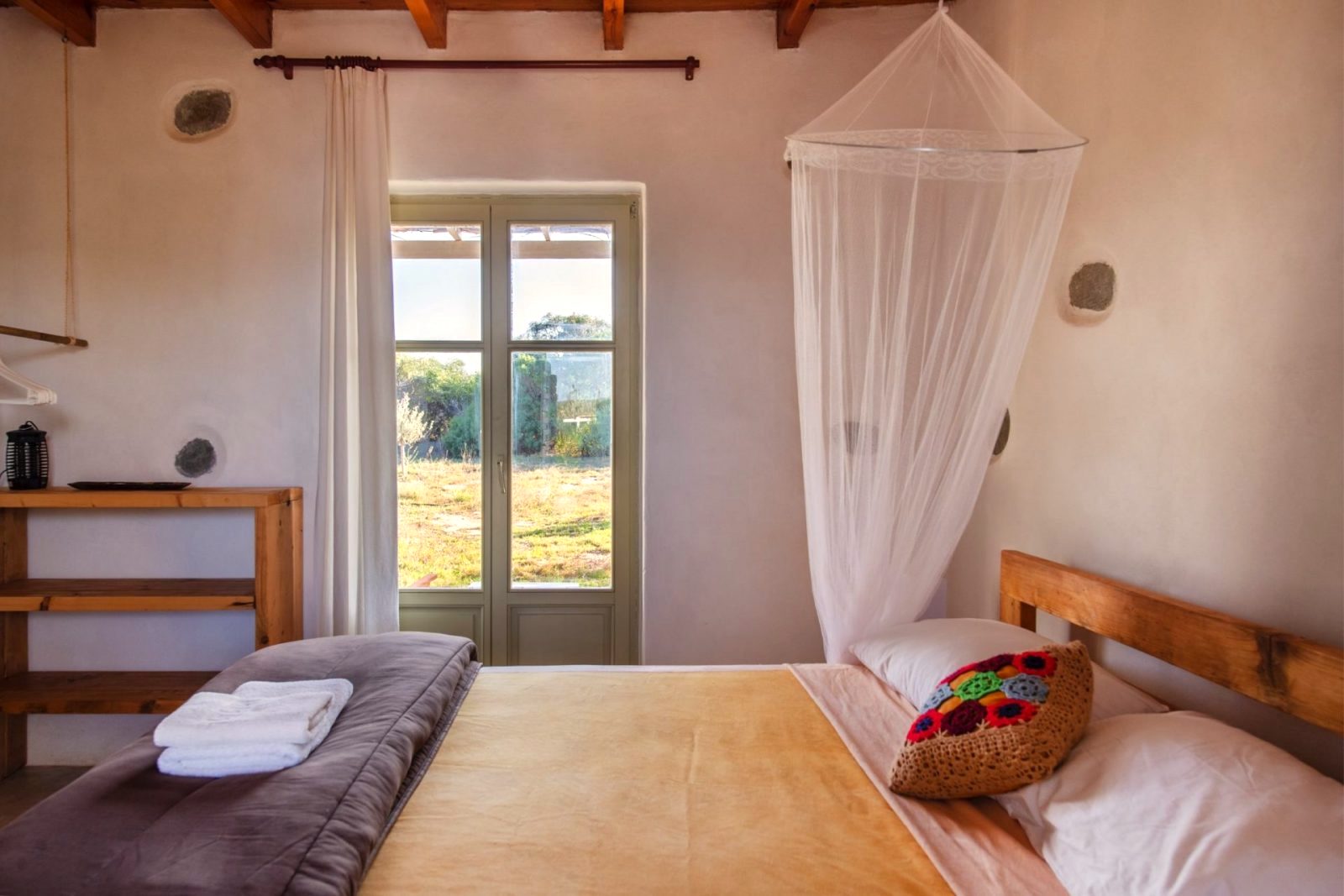 *Payment plans are available on request.
WHAT'S INCLUDED:
All yoga practices with Peter and Julie
Full use of the facilities with easy access to the beach
All meals: light breakfast, brunch, and dinner
Taxi transport to Okreblue
WHAT'S NOT INCLUDED:
International travel to Athens, Greece
Domestic travel to Paros
Bodywork/massage services
Alcoholic beverages
Optional Excursions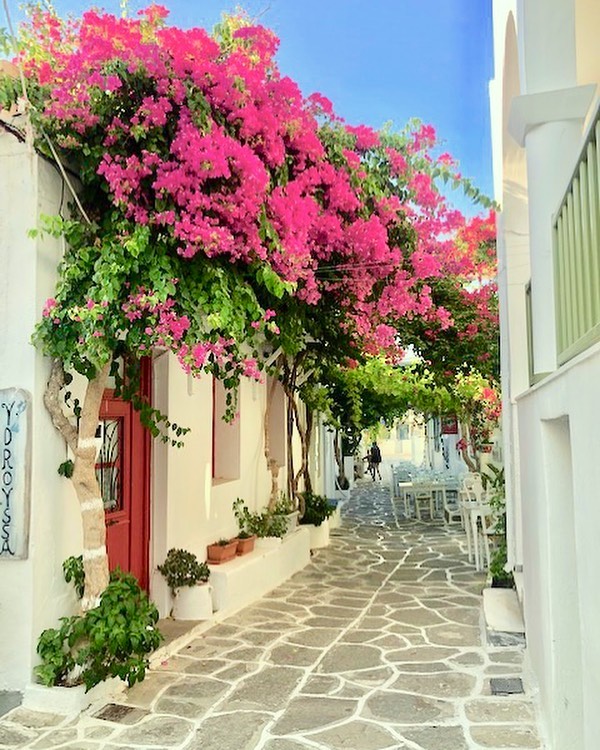 JULIE DOHRMAN:
Julie Dohrman has been teaching locally and internationally for over 20 years and is one of New York's most sought after teachers. Widely known for her inspiring, intelligent, and practical approach to yoga, Julie has an infectious passion for the practice, and views yoga as a means for personal transformation and growth. Her classes are deeply layered and invite your attention to awaken the body-mind connection, combining mythic stories and sage teachings from varied Tantric lineages with clear instruction and progressive sequencing. Julie is Certified in Anusara Yoga, ERYT-500 / YACEP, meditation instruction, and teaches in Brooklyn and NYC. She leads 200 / 300 hr Teacher Training under her school Shaktiyoga New York.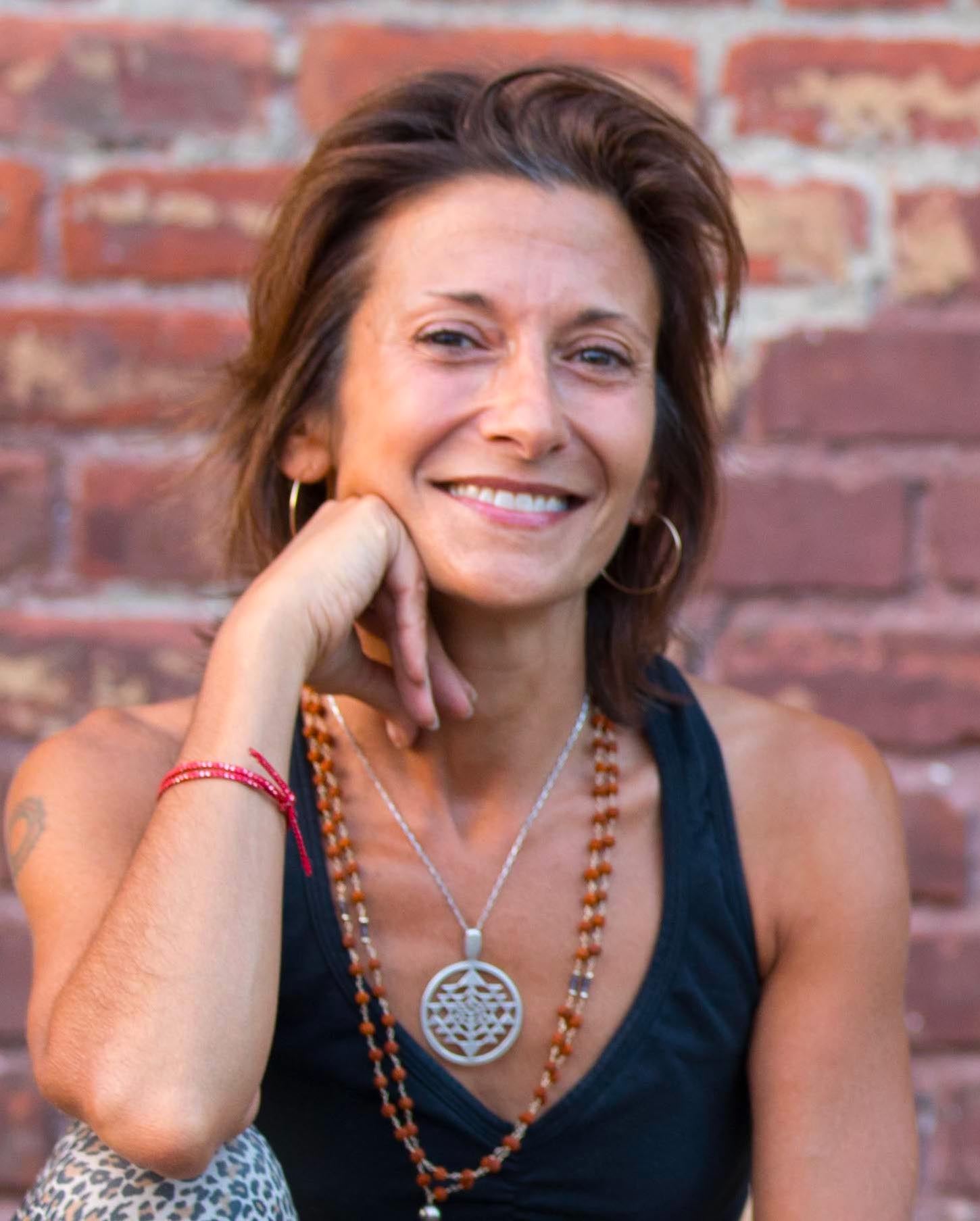 PETER GOODMAN:
Peter Goodman is a Certified Anusara® yoga teacher, ERYT-500 and YACEP. He has been practicing yoga for nearly 30 years and teaching for over 15. Peter has had the great honor and pleasure of traveling worldwide to study with many great yogis in many corners of the world, and considers himself a lifelong student. In his classes, he is passionate and sincere in offering students a place to journey to – a place filled with stability, freedom, and integrity in alignment while never forgetting the joy filled love of life, and the highest teachings life offers. www.petergoodmanyoga.com