Places I've Played
Join Certified Anusara® yoga teachers
Jane Norton and Peter Goodman
Anusara yoga as the Elemental flow of Shakti
A level 1/2 Anusara yoga weekend event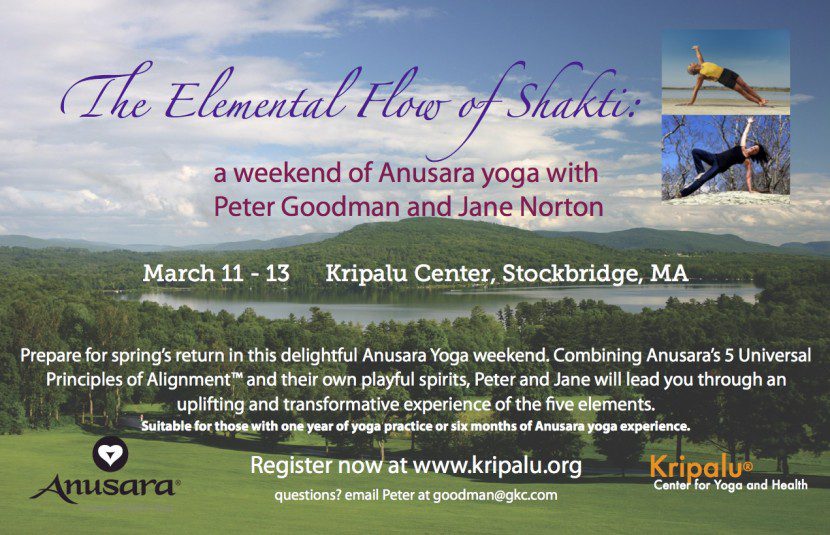 Join Jane and Peter, as they weave the elements of nature to the practice of Anusara yoga, a teaching of Bio-mechanical alignment. Each class will build on an element of nature tied to the "Universal Principles of Alignment". We will practice how to be open to everything around us, how to create stability, learn the freedom of the water element and the potency of the fire element and ultimately learn how to feel the freedom of air.
Friday – March 11 – 7:30 – 9:30pm
Akasha the Ether meets Open to Grace
Tonight we will learn the beauty of being fully open, opening to a life bigger than ourselves. When we are stuck, there is always a place to go to soften and settle. Come and explore tonight this sweet practice of moving and feeling to open our bodies.
Saturday Morning – March 12 – 8:45 – 11:30am
Earth and the Stability of Muscle Energy find their connection
As we remember the gift from the night before we dive into the strength of our own being and meet the rooted connection to the earth. We will engage fully as we explore our way to balancing poses and backbends.
Saturday Afternoon – March 12  – 1:45 to 4:30pm
Inner and Outer Spiral joins Water and Fire as we find Balance Within
Holding onto the lessons that came before this afternoon we will learn the watery movement of inner spiral and the fire created from outer spiral. Together both will offer balance to the practice of twists, seated poses and hip openings.
Sunday – March 13 – 9 – 11:30am
Freedom and Air join together for the Ultimate: Time to Fly
What do we really want to be in our lives? FREE!! In today's practice we will hold onto the lessons of the classes that came before this great day and be open to learn how to fly. We will fly like nothing can stop us now. Join in for a lesson on how to access those poses you have yet to enjoy. Freedom = Enjoyment. See you soon.
To Register for the yoga program and/or lodging and food click the link below or call (413) 448-3152:
http://kripalu.org/program/view/EFS-161/the_elemental_flow_of_shakti_a_weekend_of_anusara
The Kripalu Center for Yoga & Health is a non-profit organization that operates a health and yoga retreat in Stockbridge, Massachusetts. Its 160,000-square-foot facility is a former Jesuit novitiate and juniorate seminary built in 1957.
Wikipedia